Sticking to the persistent concept of "faithfully observing the honesty and pursuing the excellence", our high- standard professional services win the excellent client group for us.

Among hundreds of clients for which we provide the long-term services, there are not only the transnational companies, large-sized foreign invested ventures, but also the outstanding small- and middle-sized foreign invested ventures and privately-run ventures.
The businesses covered by our client group are mainly: manufacturing industry, new and high technology industry, media and entertainment industry,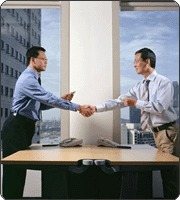 communication and IT industry, energy and environment protection, medical treatment and medicine, logistics and trade, real estate, engineer, public facilities, publishing and printing, hotel and catering industry, business wholesale and retail and the advertisement and consultation industry.